UNITED STATES
The U.S. influence:
The United States of America represents over half the world television market: for an expensive series like Space: 1999 success in this market was essential. American input was vital in order to sell what the U.S. television stations might see as a foreign import with no home interest. American stars such as the Landaus were the main attraction; American writers such as George Bellak and Art Wallace, and an American director like Lee H. Katzin were required to give the series an American perspective. The president of ITC New York, Abe Mandell, was involved from the beginning in casting, script approval and previewing episodes. For the second series, American writer and producer Fred Freiberger was employed to ensure an American viewpoint.
Lew Grade brought 60 US TV executives to Pinewood Studios to view a sneak preview in November 1974 (Variety 27 Nov 1974).
In March 1975, the film studio MGM filed suit in the Superior Court of California, Los Angeles to block ITC from using title "Space: 1999", as the series was regarded as being too close to their 1968 film 2001: A Space Odyssey. (Variety 31 March 1975, 9 April 1975). Fortunately for ITC the case was dismissed.
Selling Year One
In the 1970s, American television was dominated by three big networks, ABC, CBS and NBC. These three companies produced most of the programming, and distributed it via their networks. Legally the networks could directly own only a maximum of 5 stations each ("O&O", owned and operated). Mostly the network was made up of affiliates, independently owned local stations who broadcast one of the three network's programming. Local markets were normally made up of one affiliate for each of the three networks, plus a number of completely independent stations.
Lew Grade's ITC had some success is selling to American networks, beginning with The Adventures of Robin Hood in 1955 on CBS, and including Gerry Anderson's Fireball XL5, on NBC in 1963, and Danger Man (as Secret Agent) on ABC in 1964. Later, in 1977, his Jesus of Nazareth would also be shown on NBC.
Space: 1999 was designed to appear on one of the three big American networks. They approached the president of CBS, Robert D. Wood (1925-1986). Wood had taken over the struggling CBS in 1966 and his biggest success had been reworking a British comedy (Til Death Us Do Part, 1965-1975) into an American version (All In The Family, 1971-1979). Wood agreed to buy the series if American stars, directors and writers were used, especially with Martin Landau and Barbara Bain heading the cast. The series would be part of the network line-up, promoted nationally.
Landau and Bain were recruited and moved to London to begin filming. In September 1973, CBS broadcast the US TV premiere of the 1968 film Planet of the Apes. It was a ratings hit, and Wood promptly ordered a spin-off TV series for the autumn 1974 season. CBS now had it's own science fiction series, and it didn't need to buy Space: 1999. At the same time, they cancelled a series order for Gene Roddenberry's Genesis II. CBS, and the other networks, were no longer interested in Abe Mandell's overtures.
The series was thus denied the simplicity of a network contract, with a single sales promotion and a nationwide broadcast. The lack of interest on the part of the networks may have had several reasons. Politics was one: they would have been unwilling to take such a prestigious independent production, particularly when it wasn't even American, in preference to their own, network produced, programming. An ITC spokesman explained to a newspaper "It's all shot in England, far out of reach, and they didn't like that idea. Besides, they were afraid of Bain and Landau because of all the bad publicity when they left Paramount [after Mission Impossible]" Science fiction was an unproven genre on television. The only popular series had been Star Trek - a success it only earned in repeats. CBS was going to try it's own science fiction series, Planet of the Apes. The other networks saw the genre as unproven. Star Wars and the flood of science fiction films were not to arrive until 1977.
Initially the series was to premiere in the "fall" (autumn) of 1974. This is the most important season of the television calendar, when many major new series are introduced in the hope that they will retain audiences through the winter peak viewing months. Without network promotion, prospects looked grim. ITC pushed back the premiere to the following year, 1975. The series filming would be completely finished, but they would have more time to market the series.
The structure of the networks allowed an alternative market for independent programming. The three national networks only owned five local stations apiece, out of some seven hundred commercial television stations scattered through all the cities of the U.S. Most of these independent stations were "affiliated" to one of the networks: they were licensed to broadcast the programming of the network. The rest of their programming was made up with "syndicated" material: repeats of former network productions or first run independent shows. Network programmes dominated the peak viewing hours of 7 to 11 in the evening because they were expected to attract the largest audiences (counted as "ratings") and thus earn the most advertising revenue. A "Peak Time Access Rule", first introduced in 1971, legally limited the stations to showing a maximum of three hours of network programming between those times. Inexpensive filler programming usually made up the difference, but adventurous stations could "pre-empt" the network shows with other material if they thought it would earn larger audiences (a risky venture; offended networks could remove the station's affiliation).
Space: 1999 had to be syndicated to these local stations, but its high cost ($18000 for the package; $750 per episode, for 24 episodes with 28 repeats) could only be covered by the advertising revenues of the peak period of the evening, 7.30 to 8 pm. Network programming would have to be pre-empted at this time. So ITC mounted a massive campaign directed at every station, in order to create what they boasted would form their own Space: 1999 network. Mandell claimed they launched the most intensive marketing and merchandising campaign ever seen in the history of our business. A huge 19 inch (48 cm) square promotional brochure was followed by ITC salesmen with a print of Breakaway and an even more massive and lavish brochure.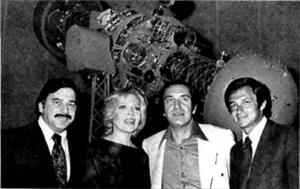 Special preview screenings were held for the press or actually broadcast to test reactions. The first screening was to an industry event in March 1975 in Atlanta.
On 11 August 1975, the Miami station WTVJ arranged a special screening at the Miami Space Transit Planetarium. The 350 guests were treated to a multi-media presentation including a projection of the night sky of September 13th, 1999 with Landau and Bain in attendance.
On 13 August 1975, the Cleveland, Ohio, station WUAB-TV hosted another event at the Case Western Reserve University Planetarium, again projecting the night sky of September 13th, 1999 for 300 guests.
On 8 September 1975, KDNL-TV St. Louis had a preview party for about 200 guests at the McDonnell Douglas Planetarium.
From 1 October 1975, KHJ-TV Los Angeles created a Space: 1999 display with the California Museum of Science and Industry, running for eight weeks.
KTIV(TV) Sioux City, Iowa, had a "Space: 1999-NBC Preview Party" at the Hilton Hotel with sets built to resemble a space ship control room
From 20 August to 1 September at the Minnesota State Fair, KMSP-TV Minneapolis-St Paul passed out promotional material.
The Moonbase uniforms were displayed in shopping malls around the US, including Tampa, Florida (station WFLA-TV), Austin, Texas (KTVV-TV), and Fresno, California (KFSN-TV).
44 buses in Tampa and St. Petersburg, Florida, had 12-foot signs advertising Space: 1999 on WFLA-TV
KRON-TV San Francisco did a special mailing to the 6000 people on the books of a Star Trek store, the Federation Trading Post, in Berkeley, California.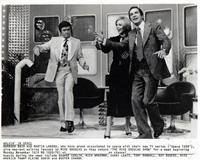 The Landaus did talk-shows such as the Merv Griffin Show on 19 August 1975, followed by Dinah! on the same date, with guest Rudi Gernreich and models wearing the costumes. They did the Tonight Show, with guest presenter McLean Stevenson on 29 August 1975. The couple were co-hosts on the Mike Douglas Show for the week of November 10-14; guests included Shari Lewis and Petula Clark (10th), Buster Crabbe and Rick Wakeman (11th), George Carlin (12th), Tony Randall and Apollo 9 astronaut Russell Schweickart (13th) and Roy Rogers (14th)
They toured 9 different U.S. cities answering questions after screenings, and gave 74 telephone interviews. ITC estimated they gave eighty-nine interviews with newspapers and magazines. They also completed 151 "personalized promos" for the stations, short announcements to advertise the series, stating the station name and the transmission day and time.
The promotional campaign wasn't as successful as it could have been, particularly with the press. Martin Landau remembers finding out ITC had not even contacted editors of TV Guide in major cities; he phoned them himself to try to win the show some coverage.
KHJ in Los Angeles launched the series on Saturday August 23rd 1975 at 7pm, announcing Breakaway in a huge one page ad in the Los Angeles Times declaring "World Television Premiere" (although this was several weeks after Australia's Channel 7 premiere). Many stations also broadcast the series on Saturday or Sunday evenings. The screening order varied between stations, although there were similarities. One episode that probably should be early is Earthbound (featuring Simmonds, from Breakaway); it was shown 8th in New York, 14th in Los Angeles and 22nd in San Francisco. Repeat episodes were sometimes inserted into the runs between first-run episodes. Often episodes were brutally edited to fit the timeslot, cutting key scenes. This was (and still is) common on American television.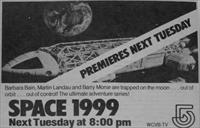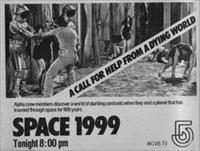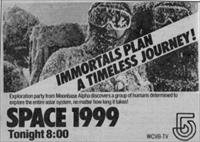 Newspaper promotions by WCVB-TV, Boston, Massachusetts
Several new prime time series from the networks in 1975 were flops. Monday at 8pm was particularly weak, with William Shatner's Barbary Coast on ABC, and The Invisible Man on NBC (against 2 popular sitcoms on CBS, Rhoda and Phyllis). ABC and NBC affiliates often replaced these shows with Space: 1999. Both network shows were cancelled by January 1976. Another weak slot was Thursdays 8pm, when NBC had a new but widely disliked sitcom, The Montefuscos (against The Waltons on CBS and Barney Miller on ABC). The weakest show on CBS was Three for the Road on Sundays 7pm (against The Swiss Family Robinson on ABC and The Wonderful World of Disney on NBC).
Often on weekends, Space: 1999 was scheduled early, prior to network prime-time, in a 6pm or 6:30pm slot. On weekdays it sometimes also took an early 7pm slot, used for syndicated shows, before network prime-time began at 8pm. Outside prime-time, stations could fit in more adverts, up from 10 to 15 minutes per hour. Each 50 minute episode would be cut by 5 or more minutes to fit.
The networks still dominated other prime time slots. Top of the ratings were sitcoms, with CBS Monday night being very strong, ABC winning on Tuesdays with Happy Days and a new hit, Laverne and Shirley. Hit family drama series included the 3rd series of The Six Million Dollar Man on ABC Sundays 8pm, with, from January 1976, the 1st series of The Bionic Woman starting on ABC Wednesday 8pm. Grittier police dramas were still strong in 9pm slots, which Space: 1999 didn't threaten: Kojak on CBS Sundays, The Streets of San Francisco on ABC Thursdays, and the first series of Starsky and Hutch on ABC Wednesdays (at 10pm).
Overall the marketing was a success. The series being sold in 155 cities of which 88 pre-empted network programming. 96% of the homes with television in the U.S. were able to see the series. The series made a strong impact in the ratings, although it failed in some local markets (usually when placed against the popular Lawrence Welk music show). The demographic breakdown of the ratings was especially strong, with the series consistently in the top slot for 18-49 year-old men and women. After some twelve weeks the popularity was to decline, though remaining respectable. Critical reaction was mixed, but the series was evidently a hit.
Selling Year Two
On December 15th, 1975, ATC issued a press release:
Sir Lew Grade announced that due to the extraordinary success of Space: 1999 in the United States and the rest of the world, we have decided to make another series of twenty four one hour episodes. The production will commence at Pinewood Studios in the middle of January 1976.
In a huge advertisement in Variety on Wednesday, January 28th 1976, ITC claimed that within twenty four hours of that announcement, renewals poured in from stations representing 42.7 per cent of total US TV homes, plus 68 countries around the world, including Canada's CBC network. They also reprinted press praise and noted they had so far received 256,607 fan letters.
An ITC spokesman commented "Frankly, we're hoping for a network to pick up the show for a second season." ITC seems to have believed they could attract a network sale, especially with a new American producer, Fred Freiberger. Unfortunately they were wrong. Again, they were forced to sell the series to individual stations.
ITC began to distribute a "Network News" newsletter to the stations, advising of marketing campaigns and events and supplying promotional material. The first noted that 171 merchandising licenses had been granted, while the second reported that a videocassette of Breakaway had been included in a Bicentennial time capsule buried in Kauai, Hawaii, for the Tricentennial year of 2076. Nick Tate was invited to the Maryland University "August Party", a Star Trek fan convention, and arrived in late July to include it in a publicity tour through New York, Baltimore and Washington. Tate gave many local and national press, radio and television interviews, including one luncheon in New York for editors of science fiction magazines, preceded by a showing of The Metamorph.
In July and August, several stations broadcast a "sneak preview" of The Metamorph (in a slightly different edit to the final cut). One of the first was WVTV-18 Milwaukee on Wed 14 July 1976 at 7pm. Other stations scheduled against television coverage of the Republican party convention (Ford vs Reagan, 16-19 August 1976). Among the stations that showed it were WUAB-TV43 in Cleveland, Ohio, at 8pm, Thursday 19th August 1976, and KRON-TV in San Francisco, California on Saturday 21st August 1976 at 10pm.
Brian Johnson and Catherine Schell followed Tate to the US on August 20th, doing press and TV talk shows in New York, Los Angeles and Philadelphia for a week. Transatlantic phone interviews were also being arranged with both of them plus Gerry Anderson, Freddie Freiberger and the Landaus. The Landaus and Catherine Schell did more "personal promos" for individual stations before the second series began in the fall of 1976. The last episodes were still being filmed in Britain.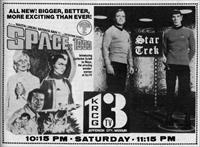 KRCG-TV, Jefferson City, MI using a Space:1999/Star Trek double-bill
Uptake of the series was much less than the first series, and stations scheduled it poorly and erratically in non-peak timeslots. The network scheduling for 1976 was stronger, with reliable sitcoms and dramas such as The Six Million Dollar Man on ABC Sundays 8pm and The Bionic Woman on ABC Wednesdays 8pm limiting the weaker slots. New series such as Charlie's Angels starting on ABC Wednesdays being particularly strong. Two marginally science fiction formats failed, Gemini Man on NBC Thursdays 8pm and ABC's sitcom Holmes & Yo-Yo on Saturdays 8pm. ITC's own The Muppet Show also started in syndication, competing for family audiences. Meanwhile, loyal audiences watched episodes that were aggressively cut.
The ratings this time were only luke-warm and the stations were losing interest. An additional thirteen episodes were proposed to start filming in summer 1977, but the cast and crew had dispersed and the market response was too weak to justify a third series. The series was cancelled, ironically as the science fiction boom began with Star Wars.
After Space
Star Wars brought a boom in science fiction film and television, but the memory of Space: 1999 waned as broadcasts declined. The show remained in syndication, but ITC put it in a package of other ITC shows, including The Prisoner and the Anderson puppet shows. In 1979 they began editing these shows into movies as part of their "Super Space Theatre" package. The two parts of The Bringers Of Wonder were the first to become a compilation movie, Destination Moonbase Alpha, followed by Alien Attack. Both these compilations were made in Britain, the latter with additional scenes filmed. Two more compilations were made in the U.S. and edited on videotape: Journey Through the Black Sun and Cosmic Princess. The eight episodes that made up these movies were withdrawn from the series package, so that it was now made up of only 40 episodes. In 1989 Cosmic Princess had the dubious honour of being shown as part of Mystery Science Theatre 3000, a series which parodied bad sci-fi films by making derisive comments throughout the film.
In the 1990s the series appeared again on the cable Sci-Fi Channel, each episode ruthlessly edited.
City

State

Original Station (1975-7)

Regular timeslot

Albuquerque

New Mexico

KOB-TV (NBC)

Asheville

North Carolina

WLOS-TV (ABC)

Atlanta

Georgia

WXIA-TV (ABC)

Bakersfield

California

KERO-TV (NBC)

Bangor

Maine

WABI-TV (CBS)

Baton Rouge

Louisiana

WBRZ-TV (NBC)

Bellingham

Washington

KVOS-TV (CBS)

Boise

Idaho

KTVB-TV (NBC)

Boston (Y1)

Massachusetts

WCVB-TV (Channel 5, NBC)

Tuesday 8pm, later Friday 7:30pm (?)

Boston (Y2)

Massachusetts

WLVI-TV (Channel 56)

Sunday 6pm

Brownsville

Texas

KRGV-TV (NBC)

Cedar Rapids-Waterloo

Iowa

KCRG-TV (ABC)

Charleston

West Virginia

WCHS-TV (CBS)

Charlotte

North Carolina

WSOC-TV (NBC)

Chicago

Illinois

WGN-TV (Channel 9, independent)

Y1: Tues 7pm, then also Thurs 7pm
Y2: Sunday 5:30pm

Cincinatti

Ohio

WXIX-TV (Channel 19, independent)

Saturday 6pm

Cleveland

Ohio

WUAB-TV (Channel 43, independent)

Saturday 7pm starting 13 September 1975 (premiere earned a 32% share)
"Special Preview" of Metamorph 8pm Thursday 19 August 1976
Saturday 7pm Year 2

Columbia

South Carolina

WIS-TV (NBC)

Dayton

Ohio

WKEF-TV (ABC)

Decatur

Illinois

WAND (ABC)

Denver

Colorado

KMGH-TV (CBS)

Detroit

Michigan

WKBD-TV (Channel 50, independent)

Sunday 6:30pm

El Dorado

Arkansas

KTVE (ABC)

El Paso

Texas

KDBC-TV (NBC)

Elkhart

Indiana

WSJV-TV (ABC)

Eugene

Oregon

KVAL-TV (NBC)

Evansville

Indiana

WTVW-TV (ABC)

Flint

Michigan

WJRT-TV (ABC)

Fort Myers

Florida

WEVU-TV (ABC)

Fort Pierce

Florida

WTVX-TV (CBS)

Fort Wayne

Indiana

WPTA (ABC)

Fresno

California

KFSN-TV (CBS)

Greensboro

North Carolina

WFMY-TV (CBS)

Honolulu

Hawaii

KITV (ABC)

Indianapolis

Indiana

WLWI/WTHR-TV (Channel 13, ABC)

Sunday 11am and Monday 12:15am

Jacksonville

Florida

WTLV (NBC)

Jefferson City

Missouri

KRCG-TV (CBS)

Joplin

Missouri

KUHL-TV (CBS)

Kansas City

Missouri

WDAF-TV (NBC)

Kearney

Nebraska

KHGI-TV (ABC)

Knoxville

Tennessee

WATE-TV (NBC)

Las Vegas

Nevada

KORK-TV (NBC)

Lexington

Kentucky

WTVQ-TV (ABC)

Los Angeles

California

Saturday 7pm starting 23 August 1975
Reruns 1977-79 Sunday 4pm
Year 2 starting 7pm 25 September 1976

Louisville

Kentucky

WAVE-TV (NBC)

Year 1 only

Lubbock

Texas

KMCC-TV (ABC)

Miami

Florida

WTVJ-TV (CBS)

From Wednesday 10 September 1975 7pm

Milwaukee

Wisconsin

WVTV-TV (Channel 18, indepedent)

Sunday 5pm

Monterey

California

KMST (CBS)

Nashville

Tennessee

WNGE-TV (Channel 2, ABC)

Saturday 10:30pm

New Haven

Connecticut

WTNH-TV (ABC)

New Orleans

Louisiana

WDSU (Channel 6, NBC)
Reruns on WGNO

Saturday 4:30pm
WGNO reruns from May 1978, 6pm

New York City

New York

Saturday 7pm (Year 1) starting 20 September 1975
Saturday 11am (Year 2)

Norfolk

Virginia

WAVY-TV (NBC)

Oklahoma City

Virginia

KOCO-TV (ABC)

Omaha

Nebraska

WOW-TV (CBS)

Orlando

Florida

WDBO-TV (CBS)

Peoria

Illinois

WRAU (Channel 19, ABC)

Thurs 7pm until mid Dec 75
Then weekend fillers. No Y2

Philadelphia

Pennsylvannia

WPVI-TV (Channel 6, ABC)
WPHL-TV (Channel 17, independent)

Friday 7pm
Saturday 6pm

Phoenix

Arizona

Saturday 6pm starting 13 September 1975
Reruns 1978-79 Sunday 5pm

Pittsburgh

Pennsylvannia

WPGH-TV (Channel 53, independent)

Sunday 6pm

Plattsburgh

New York

WPTZ-TV (NBC)

Portland

Oregon

KATU-TV (ABC)

Providence

Rhode Island

WJAR-TV (Channel 10, NBC)

Sunday 3pm

Rochester

Minnesota

KROC-TV (NBC)

Rock Island

Illinois

WHBF (Channel 4, CBS)

Tues 7pm until mid Dec 75
Then Saturday 10pm

Sacramento

California

Saturday 6:30pm starting 13 Sept 1975

Salt Lake City

Utah

KCPX-TV (ABC)

San Antonio

Texas

KSAT-TV (ABC)

San Diego

California

KGTV (NBC)

San Francisco

California

Breakaway only: 10pm Friday 5 September 1975
Regular slot: Saturday 7pm (from 13 September 1975)
Reruns 1977-79 Sunday 4pm

Sioux City

Iowa

KTIV (NBC)

Sioux Falls

South Dakota

KELO-TV (CBS)

Spokane

Washington

KHQ-TV (NBC)

Springfield

Massachusetts

WWLP (NBC)

Syracuse

New York

WNYS-TV (ABC)

Tampa (Y1)

Florida

Breakaway only: 8pm Friday 5 September
Mondays 8pm beginning 8 September 1975

Tampa (Y2)

Florida

WTOG (Channel 44, independent)

Sundays 6pm

Toledo

Ohio

WOHO (ABC)

Tucson

Arizona

KVOA-TV (NBC)

Washington DC

DC

WMAL-TV (Channel 7, ABC)

Saturday 7pm starting 13 Sept 1975
See TV Guide covers