New Zealand
Among the New Zealand cast for Space: 1999 were Pamela Stephenson, Anouska Hempel, James Laurenson, Robert Reeves and Lisa Harrow.
New Zealand television, TV1, began in 1960; it was state owned, but showed commercials. A second TV channel, TV2, was launched in 1975. Both TV1 and TV2 switched to colour later that year.
Year One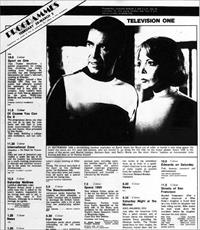 Space: 1999 started on TV1 at the end of February 1976. The slot was on Saturday evenings, at 7pm after the news. On the same day, TV2 had been showing Thunderbirds at 4:40pm.
The following listings come from the New Zealand Listener weekly magazine (thanks to Patrick Te Pou, source). There are some oddities, notably that the series starts by showing Breakaway twice. Possibly the first showing on 28 February 1976 was pre-empted, perhaps by the Nelson by-election that day. All other year 1 episodes seem to have been shown without pre-emptions.
Year 1 finished in August 1976 (from 21 August, the slot went to Morecombe and Wise, and later Donny and Marie).
Year Two
The second series launched in February 1977, this time on Wednesday evenings. After 11 episodes, in mid-April 1977, it stopped, replaced by BBC hospital soap Angels. It restarted in a later Tuesday slot on 27 December, but stopped again after 7 episodes. It was replaced by It Ain't Half Hot Mum and When the Boat Comes In.
While the show was on hiatus, TV1 showed UFO (on Fridays from 21st July 1978)
The final 6 episodes of Space: 1999 began on Fridays from 29 December 1978, running after Coronation Street (and against Dr Who on TV2). When the series finished in February, it was replaced by CHiPs.
From the New Zealand Listener listings, there were 24 year 2 episodes shown, but two are listed twice, suggesting they were swapped for other episodes; 3 others were not titled. The 5 unknown episodes are Brian The Brain, New Adam New Eve, Catacombs of The Moon, The AB Chrysalis and The Beta Cloud.
| Production Order | Episode | Original broadcast | Comments |
| --- | --- | --- | --- |
| 1 | | Sat, 28 Feb 1976 7:00PM | Possibly pre-empted by the Nelson by-election. |
| 1 | | Sat, 06 Mar 1976 7:00PM | |
| 2 | | Sat, 13 Mar 1976 7:00PM | |
| 21 | | Sat, 20 Mar 1976 7:00PM | |
| 23 | | Sat, 27 Mar 1976 7:00PM | |
| 24 | | Sat, 03 Apr 1976 7:00PM | |
| 18 | | Sat, 10 Apr 1976 7:00PM | |
| 22 | | Sat, 17 Apr 1976 7:00PM | |
| 19 | | Sat, 24 Apr 1976 7:00PM | |
| 20 | | Sat, 01 May 1976 7:00PM | |
| 17 | | Sat, 08 May 1976 7:00PM | |
| 16 | | Sat, 15 May 1976 7:00PM | |
| 15 | | Sat, 22 May 1976 7:00PM | |
| 14 | | Sat, 29 May 1976 7:00PM | |
| 13 | | Sat, 05 Jun 1976 7:00PM | |
| 12 | | Sat, 12 Jun 1976 7:00PM | |
| 10 | | Sat, 19 Jun 1976 7:00PM | |
| 11 | | Sat, 26 Jun 1976 7:00PM | |
| 9 | | Sat, 03 Jul 1976 7:00PM | |
| 8 | | Sat, 10 Jul 1976 7:00PM | |
| 7 | | Sat, 17 Jul 1976 7:00PM | |
| 6 | | Sat, 24 Jul 1976 7:00PM | |
| 5 | | Sat, 31 Jul 1976 7:00PM | |
| 4 | | Sat, 07 Aug 1976 7:00PM | |
| 3 | | Sat, 14 Aug 1976 7:00PM | Final episode of Year 1 |
| 25 | | Wed, 02 Feb 1977 7:00PM | Year 2 starts, new Wednesday slot |
| 26 | | Wed, 09 Feb 1977 7:00PM | |
| 27 | | Wed, 16 Feb 1977 7:00PM | |
| 28 | | Wed, 23 Feb 1977 7:00PM | |
| 29 | | Wed, 02 Mar 1977 7:00PM | Possibly swapped for another episode (see 27 December). |
| 30 | | Wed, 09 Mar 1977 7:00PM | Possibly swapped for another episode (see 3 January 1978). |
| 31 | | Wed, 16 Mar 1977 7:00PM | |
| 32 | | Wed, 23 Mar 1977 7:00PM | |
| | ? | Wed, 30 Mar 1977 7:00PM | |
| | ? | Wed, 06 Apr 1977 7:00PM | |
| | ? | Wed, 13 Apr 1977 7:00PM | Last episode for 9 months. |
| 29 | | Tue, 27 Dec 1977 7:30PM | Series returns with Tuesday slot |
| 30 | | Tue, 03 Jan 1978 7:30PM | |
| 37 | | Tue, 10 Jan 1978 7:30PM | |
| 39 | | Tue, 17 Jan 1978 7:30PM | |
| 40 | | Tue, 24 Jan 1978 7:30PM | |
| 43 | | Tue, 31 Jan 1978 7:30PM | |
| 44 | | Tue, 07 Feb 1978 7:30PM | Last episode for 10 months. |
| 41 | | Fri, 29 Dec 1978 7:30PM | Series returns with Friday slot. |
| 42 | | Fri, 05 Jan 1979 7:30PM | |
| 45 | | Fri, 12 Jan 1979 7:30PM | |
| 46 | | Fri, 19 Jan 1979 7:30PM | |
| 47 | | Fri, 26 Jan 1979 7:30PM | |
| 48 | | Fri, 02 Feb 1979 7:30PM | Final episode. |