Key Dates
See US broadcast history for detailed explanations.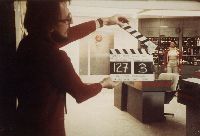 Note that this order is complicated by refilming of scenes and pick-up shots which may be filmed some time after the main body of filming, and doubled-up episodes where two episodes are filmed simultaneously. Filming dates are shown where known.
See also the calendar for all filming days in 1973, 1974, 1975 and 1976.
Year One
Number
Screen Episode Title
Shooting Dates
1
Breakaway
5 November 1973 (SFX),
26 November 1973 (live rehearsals),
3 December 1973- 11 January 1974, 22 Feb- 1st March (live shooting)

2
Matter Of Life And Death
14 Jan -30 Jan 1974

3
Black Sun
31 Jan- 21 Feb 1974

4
Ring Around The Moon
4 Mar- 13 Mar 1974

5
Earthbound
15 Mar- 1 April 1974

6
Another Time, Another Place
2 April- 19 April 1974, 25 April 1974

7
Missing Link
22 April- 7 May 1974, 22 July 1974

8
Guardian of Piri
8 May- 24 May 1974

9
Force Of Life
28 May- 7 June 1974, 1 July- 5 July 1974

10
Alpha Child
8 July- 19 July 1974

11
The Last Sunset
23 July - 6 Aug 1974, 21 August 1974

12
Voyager's Return
7 August- 21 August 1974

13
Collision Course
27 Aug- 6 September 1974

14
Death's Other Dominion
9 September- 23 September 1974

15
The Full Circle
24 September- 8 Oct 1974

16
End Of Eternity
9 Oct- 23 Oct 1974

17
War Games
24 Oct- 8 Nov 1974

18
The Last Enemy
8 Nov- 19 Nov 1974, 25 Feb- 27 Feb 1975

19
The Troubled Spirit
20 Nov- 4 Dec 1974

20
Space Brain
5 Dec- 19 Dec 1974, 25 Feb- 28 Feb 1975

21
The Infernal Machine
20 Dec 1974- 9 Jan 1975

22
Mission Of The Darians
10 Jan- 23 Jan 1975

23
Dragon's Domain
24 Jan- 10 Feb 1975

24
The Testament Of Arkadia
11 Feb-25 Feb 1975
Year Two