Blu-ray (Impact)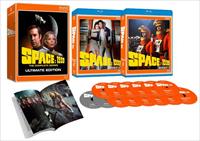 Australia, IMP2399, 1 September 2021
See also Australia DVD (Magna Pacific, Beyond Home Entertainment, 2003-2016)
Impact is a "premium" Blu-ray brand of Via Vision Entertainment (VVE). Australia is Blu-ray zone B (with Europe, not playable in US). This is a reissue of the UK Network Blu-ray (2010, 2015), incorporating extras from Network, A&E (DVD, USA, 2002) and Shout Factory (USA, 2019). Video and audio quality seems identical to Network.
Publicity claimed a limited edition of 2000 copies.
Titled Space: 1999 The Complete Series Ultimate Edition the set consists of an orange hard cover slip box (14cm x 17.5cm x 6cm) with two plastic Blu-ray cases (13.5cm x 17cm x 2.5cm). The total set is 14 discs, 5 for each series (5 episodes per disc, same as Network), 2 extras discs (one per season, Blu-ray but with some standard definition content), plus 2 "alternate missions" discs (one for Destination Moonbase Alpha in HD, the other for the 3 other films in SD with trailers).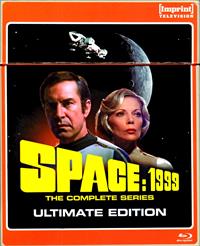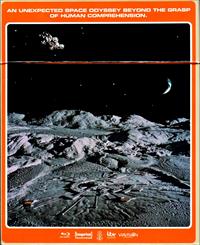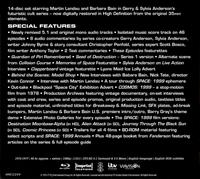 The back of the slipcase has a detachable card panel listing the extras. When removed it reveals a picture of Moonbase Alpha.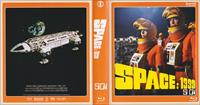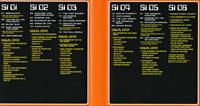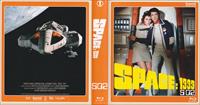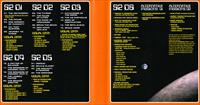 The Blu-ray cases have removable sleeves, the interior of which show the disc contents.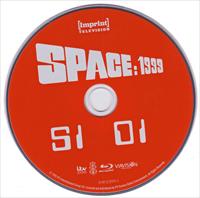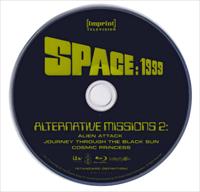 The discs are orange with white series logo and numbers, apart from the two "Alternative Missions" discs which are black with yellow logo and lettering.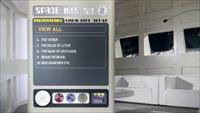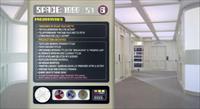 The disc menus are static, a very stylized communications post or screen with a corridor (year 1) or Koenig's year 1 office (year 2) beyond, with another oddly angled wall to the left.
Case "S01" (Year 1)
Case "S02" (Year 2)
There is also a 48-page booklet "The Making of Space: 1999 by Ian Fryer". The fan club Fanderson's logo and web address is on the back. Illustrated by photos, the booklet describes the development and making of the show, and includes an episode guide with background information, rather than plot summaries. It uses some broadcast dates from HSV7. Melbourne, Australia, which definitely aren't world premieres, or even Australian premieres, because the same episodes had been shown on CTC7, Canberra first.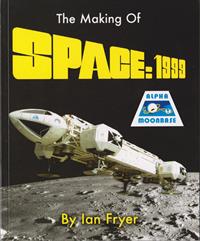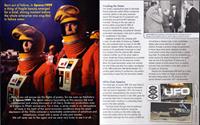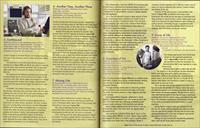 Episode Soundtracks
There are subtitles for all episodes (Network omitted these) plus text commentaries by Chris Bentley on The Last Sunset and Space Brain
The discs also have episode and behind the scenes image galleries (from Network, partially on Shout Factory), although two galleries are missing.
Extras discs
Most of the material is from Network (or Carlton before that), with additional material from Shout Factory (4 documentaries). Most of the Network extras that Shout Factory did not use are included here.
Also present are the PDF content from Network - scripts and annuals
New extras (not on main Network or Shout Factory sets)
Destination Moonbase Alpha (100mins) film (full film in un-restored HD, from Network 2014 special edition)
Alien Attack (109mins), Cosmic Princess (91mins) and Journey Through The Black Sun (92mins). All are the full films, in standard definition (probably same prints released on German DVD in 2011 and 2016)
Missing content:
Copyright Martin Willey.